The Small Footprint Personnel Access Solution
Eliminate Downtime With A Hoist That Just Works – Day In and Day Out.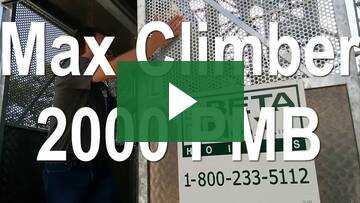 Features
Move 7 Passengers or 2,000 lbs at 80FPM
Self-erecting installation (no crane required)
Enjoy In Car Control With Multiple Landing / Stop Options
Small Footprint of 8ft x 8ft fits perfectly in the most rugged and confined spaces
Streamline material delivery to job level with dedicated, enclosed cargo carriage
Installation efficiency ensured with self erecting feature and dedicated one piece base system comes to the job site pre-assembled
Fold out installation platform guarantees faster and easier access when installing wall ties
Can attach to scaffolding or anchor directly to the building
Call Box Option can be installed at each floor landing gate and allows hoist operator to be called to a specific floor
Durable aluminum car wall panels with car support frame and mast sections of hot dip galvanized steel
Can be engineered for custom job site application for temporary or permanent use
Upper, Lower and Intermediate Floor Stop switches integrated into system.
Manual brake release lever in case of power interruption during use.
Failsafe brake holds the load securely when not lifting or lowering loads
Sensors detect when basket is in load or unload mode and hoist does not operate.
Hand-held pendant with emergency shut-off button for operation from base of system.
MC 2000 PMB
500 ft – Lift Height
2,000 lbs – Lift Capacity
80 fpm – Lift Speed
208V, 3Ô – Power
Get MC2000PMB spec sheets and a custom quote emailed to you. Get A Quote
Max Climber 2000 PMB Personnel Hoist.
For operation heights above 220 feet a 480V option is also available.
Specifications
Lifting Capacity: 2000 lb
Lifting Speed: 80 fpm
Lifting Height: 500 ft
Power: 3Φ 208V
Base Footprint: 93in x 95in
MC 2000 PMB
500 ft – Lift Height
2,000 lbs – Lift Capacity
80 fpm – Lift Speed
208V, 3Ô – Power
Get MC2000PMB spec sheets and a custom quote emailed to you. Get A Quote
MC 2000 PMB
500 ft – Lift Height
2,000 lbs – Lift Capacity
80 fpm – Lift Speed
208V, 3Ô – Power
Get MC2000PMB spec sheets and a custom quote emailed to you. Get A Quote