Click Play to learn a "common sense" rule for working at height,
and 3 even more common ways you may be breaking it.
Swing stage setups utilizing a wire rope hoist for material delivery get more done per day.

On the left is an I-Beam setup using a Leo XXL for heights up to 400 ft.
Get more details on this setup here.
Quick Links
Rack & Pinion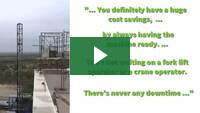 Scaffold Hoists